Planning a wedding is an exciting and memorable journey for couples. For those who are considering tying the knot in France, there are few places that can rival the culinary delights offered in Lyon and Burgundy. As an experienced wedding planner, I specialize in creating unforgettable French-inspired weddings that place a strong emphasis on gastronomy and the art of food and wine pairing. In this article, we will explore why Lyon and Burgundy are the perfect destinations for couples seeking an exceptional culinary experience for their wedding celebration.
Lyon: The Gastronomic Capital of France
Lyon, nestled in the heart of the Rhône-Alpes region, holds a distinguished title as the gastronomic capital of France. Renowned for its rich culinary heritage, Lyon is home to numerous Michelin-starred restaurants, bouchons (traditional Lyonnais eateries), and vibrant food markets. Couples can indulge in a variety of mouthwatering specialties, including Coq au Vin, Quenelles de Brochet, and the world-famous Lyonnais sausages.
Not only does Lyon boast a wide array of culinary options, but the city is also known for its exceptional wine scene. Situated at the crossroads of the Rhône Valley and Beaujolais wine regions, Lyon offers an extensive selection of exquisite local wines, such as Côtes du Rhône and Beaujolais Nouveau. Imagine raising a glass of fine wine with your loved ones as you savor every moment of your wedding day.
Burgundy: A Haven for Wine and Gastronomy Enthusiasts
Located in east-central France, Burgundy is a region renowned for its exceptional wines and world-class gastronomy. With its picturesque vineyards, charming villages, and historic châteaux, Burgundy provides an idyllic backdrop for a romantic and gastronomic wedding celebration.
Burgundy is famous for its prestigious wines, particularly its exceptional Pinot Noir and Chardonnay. From the grand cru vineyards of Côte de Nuits to the scenic landscapes of Côte de Beaune, couples can embark on wine tours and tastings, immersing themselves in the beauty and complexity of Burgundy's terroir.
When it comes to cuisine, Burgundy is equally impressive. The region is known for its hearty dishes, such as Beef Bourguignon, Escargots de Bourgogne, and the delectable Époisses cheese. These culinary delights, combined with the finest local ingredients, create an unforgettable dining experience for you and your guests.
A French Wedding Experience tailored to your tastes
As a wedding planner with a passion for French gastronomy, I specialize in curating weddings that highlight the culinary excellence of Lyon and Burgundy. Whether you envision an intimate gathering in a Michelin-starred restaurant or a lavish affair in a historic castle, I can assist you in crafting a wedding celebration that reflects your unique tastes and preferences.
From designing exquisite menus featuring regional specialties to carefully selecting wine pairings that complement each dish, every aspect of your wedding's culinary experience will be meticulously planned and executed. I work closely with a network of talented chefs, sommeliers, and local vendors to ensure that your wedding is a gastronomic journey you and your guests will treasure forever.
For couples seeking a truly exceptional culinary experience for their wedding, Lyon and Burgundy stand out as the ideal destinations. From Lyon's vibrant culinary scene to Burgundy's world-renowned wines and gastronomy, these regions offer a sensory delight that will enhance your wedding celebration. As an experienced wedding planner specializing in French-inspired weddings, I'm dedicated to creating an unforgettable experience where gastronomy and the art of food and wine are at the heart of the action.
Are you ready to experience the finest French gastronomy for your dream wedding? Get in touch with me!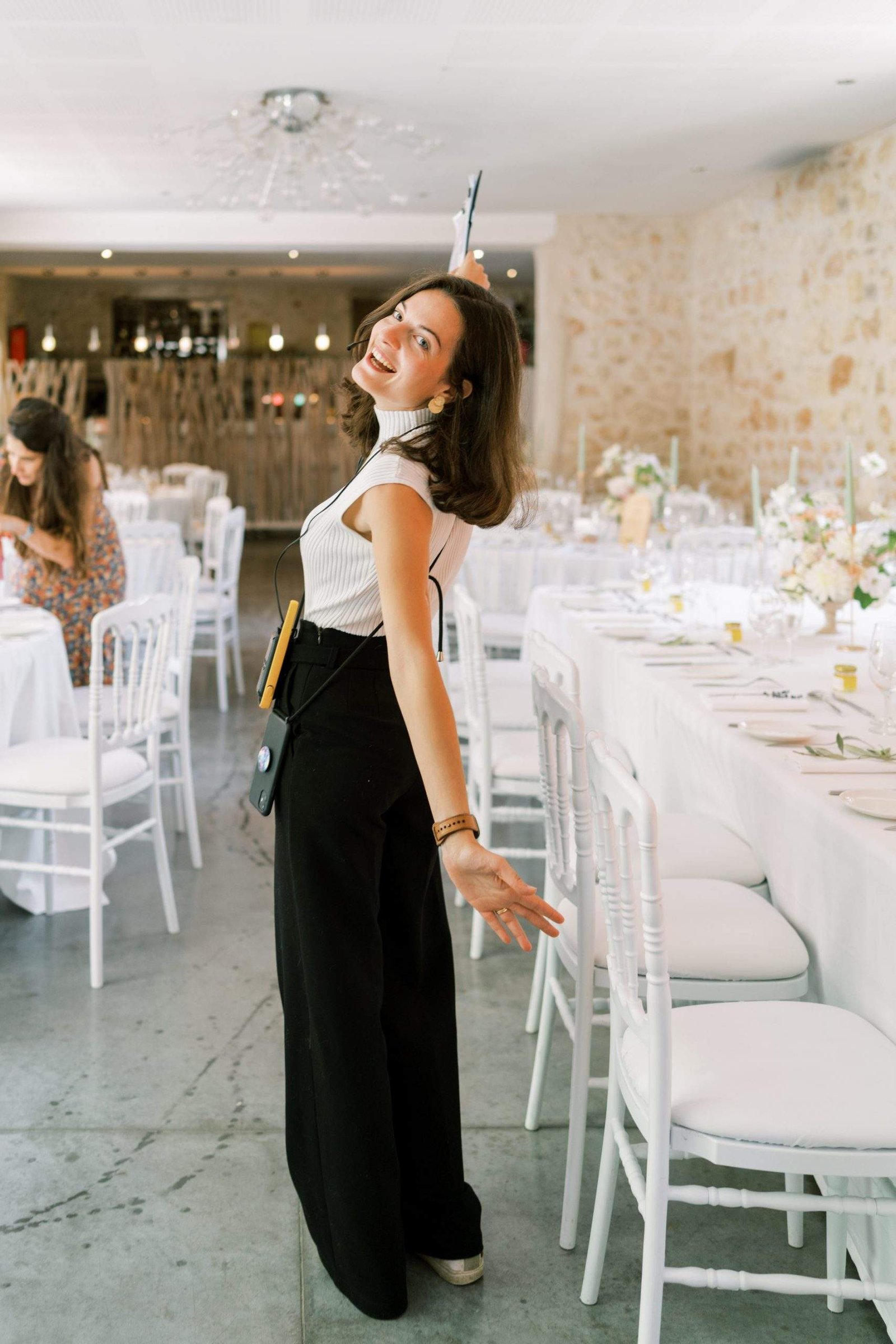 Photographer Clémentine C. Photographe